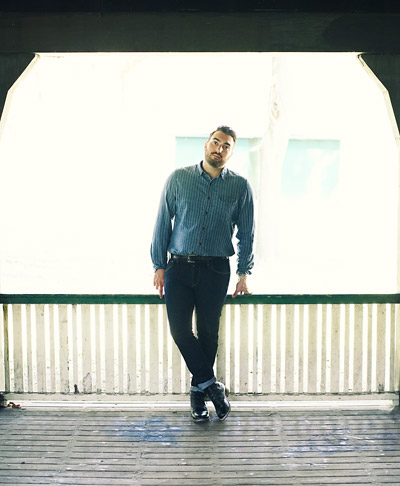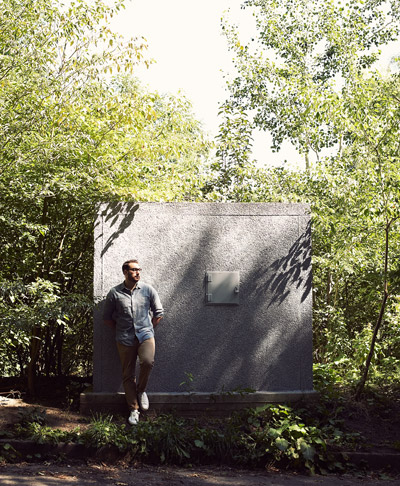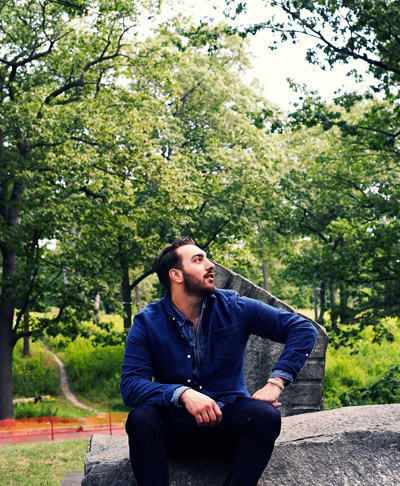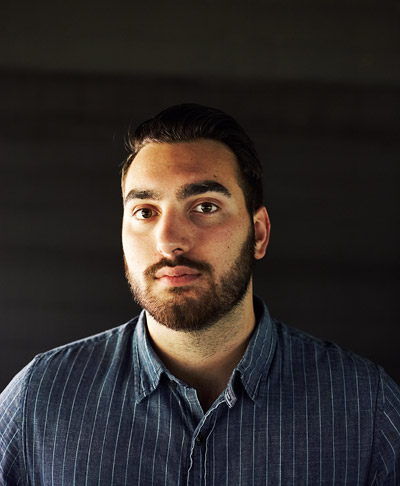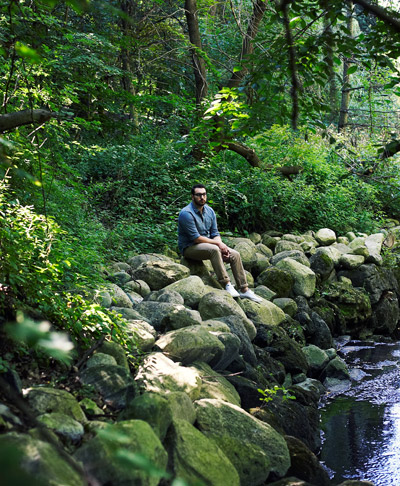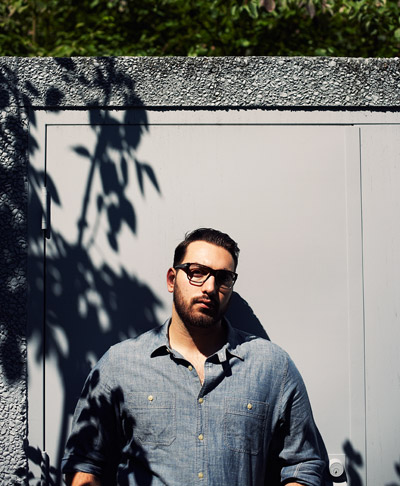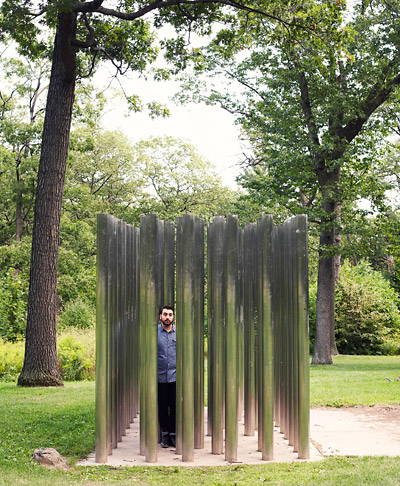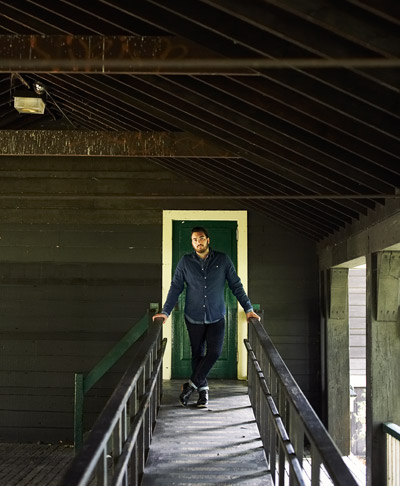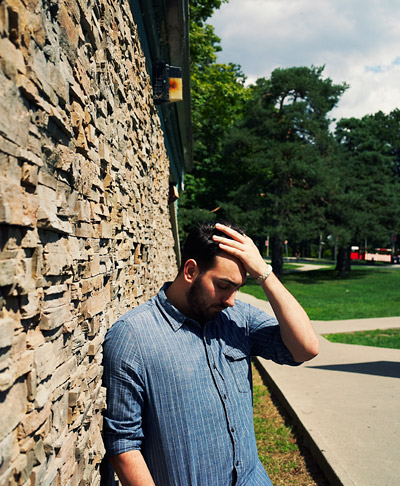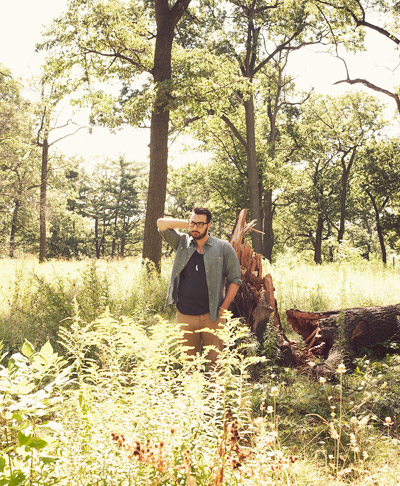 Though he's spent time snowboarding, skateboarding, playing hockey and creating music, Adrian Vieni has finally found something that he feels like he's meant to do. You could label him blunt but the man behind the camera is pretty doubtful of himself, which only makes him strive harder.
His unique style shows through as he whips out a double-layered flannel/chambray shirt combo along with rolled up jeans and black leather boots for his photo shoot. Posing among trees and old wooden houses in the depths of High Park, Vieni laughs as he imitates a washed up boy band member in trying not to take himself too seriously.
"Fashion is a creative output just like art. It's a projection of who you are," he says. He attests to only owning one pair of shorts, and they're just cut-offs, he adds, but he admits that the rack of shoes in his apartment hallway is solely his.
It wasn't until December of 2009 that the now full-fledged filmmaker first picked up a camera.
That December, he bought his first camera one morning and then met with his friend James Featherstone to go film bands Mother Mother and Moneen later that afternoon.
But by disguising the fact that he had only picked up a camera mere hours before, the opportunity to pitch a show titled 'What You See Is What You Get' arose quickly. Vieni and Featherstone's pitch was picked up by AUX T.V. and they was able to fully explore their concept that took a more intimate and acoustic look at the performers he grew up listening to along with new artists from around the world, including Florence & The Machine, Neon Indian, and Jay Malinowski.
"I got into it for the music. It seemed natural working in a music related industry because it was always my biggest thing," he says.
Opportunity blossomed when Vieni started his own video series titled Wood & Wires, which certainly doesn't fit the mold of your average behind the music video session.
Instead, Wood & Wires sessions constantly change to fit the artist, making each piece a tangible piece that can stand on its own. Vieni believes that if you adapt the look and feel of the video to the specific artist, you create a product that everyone is more confident releasing.
As he sits on the park bench in the shade of a High Park nook looking through the mounds of interviews he's done for the series on his iPhone, Vieni can't pick out a favourite artist but can highlight key moments as he sifts through the list.
The band We Are The City was one he fell in love with. Vieni was excited when he found out they were passing through Kingston and that he would have the opportunity to film them. The band had taken the time to rework a song entirely for the session with new tweaks like adding a microphone inside a kick drum, and playing it through an amp to create a new and innovative sound.
"I love it when an artist puts so much effort and thought into it… They were one of the first bands who did" he said.
The repertoire continues to grow with performances from City and Colour, The Coppertone, Joel Plaskett and Stars. "Getting to work with artists like Bedouin Sounclash, Joel Plaskett, and City and Colour was so amazing. Those artists had a huge impact on me growing up and were part of what got me into music, and got me interested in working in music and film."
You can even add the Arkells to the list of artists that he's worked closely with, doing an EPK last year, and now clips for the release of their second studio record that was recorded, and filmed, in the Tragically Hip/Blue Rodeo owned studio, the Bathhouse.
Next up is working with the Toronto band The Darcys to record a series of videos to promote their upcoming record. Then, he'll be hitting up the wilderness to spend four days with Bravestation shooting a 'Where the Wild Things Are' meets 'Lord of The Flies' concept based video.
These highlights come from just a year and a half of working intensely in the film industry after he so recently made the switch from Art History to Film at Queen's in his third year.
As a testament to his talent, his fourth year film project at Queen's got him featured at the Kingston Canadian Film Festival. The black comedy short for which Vieni was the Director of Photography was for the most part an anecdote between friends. Nonetheless it was picked up for the Short Corner at Cannes and even the Fantasy Film Fest in Germany.
The role of DOP is a job Vieni hopes to take on more often and he believes delving into cinematography is another step on the road too. Add in his interest in the advertising industry and Vieni's well on his way to an impactful career in film. "When you think about it" Vieni says, "ads have the ability to reach more people and have an impact on everyone's day-to-day lives."
For Wood & Wires, Vieni has high hopes. He is currently in the process of developing it into a full production house, with projects like music videos, events, and promotional clips being developed from the ground up with help from his collaborators.
When asked about his greatest accomplishments, Vieni's proud of being re-hired by people that he has worked with in the past. Being a bit doubtful of his achievements has been something that's brought him to where he is. "If you think you're amazing, then you'll never strive to do any better" he says. One of the few ways to ensure that someone enjoyed the product you created, he adds, is for them to re-hire you. "Return business makes me feel happy. It means they think what I've done looks great and they want me to come back. It's a confidence boost."