⁄

Dressed to Kill
Designer Alana Kakia combines rock 'n' roll badass with Greek goddess for a style that's nothing less than lethal.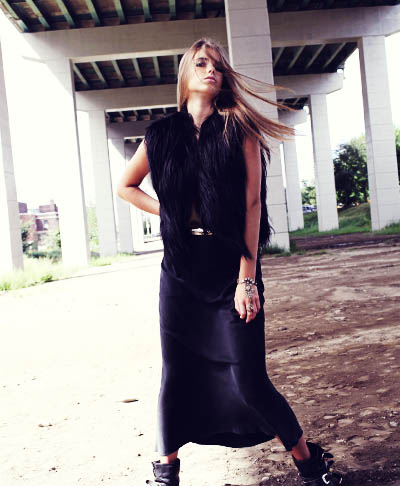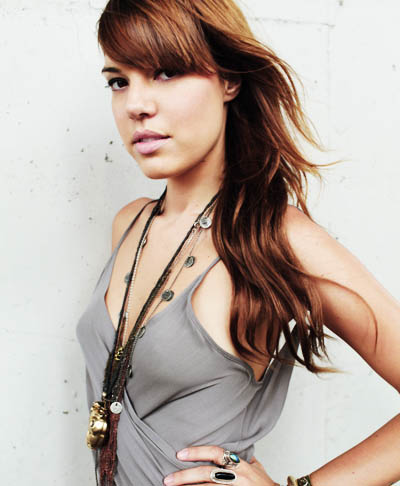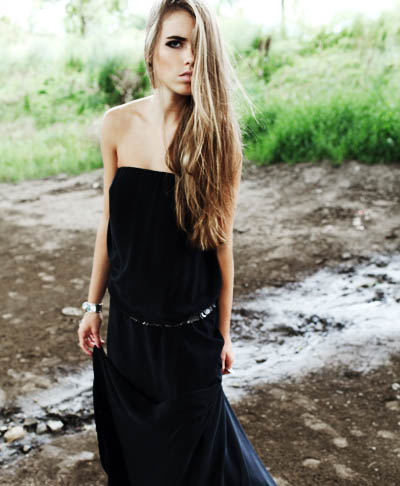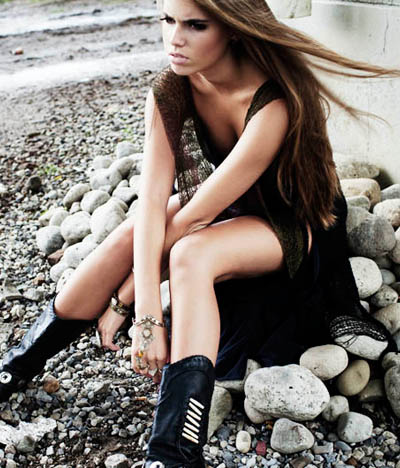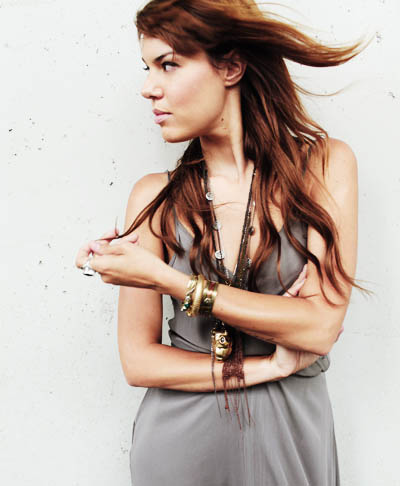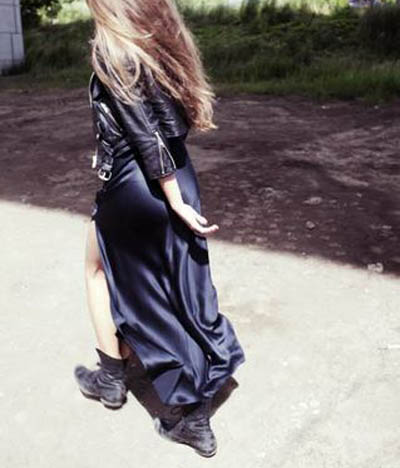 When the Greek god Hercules was a young man, two beautiful maidens approached him. One was the epitome of purity, dressed modestly in white. Her name was Areti – the goddess of virtue. The other was sultry, with a made-up face and a style that tempted even the most virtuous of mythology's heroes. Her name was Ka'kia – the goddess of vice or moral badness.
Today, Toronto-based designer Alana Ka'kia, shares not only her own name with one of Greek mythology's most outright seductresses, but also that of her label, designed for women who epitomize the same irresistibly rebellious qualities.
"I think she's a girl that is a free spirit, somebody that is a badass herself, someone that has no limits, no fears," says Ka'kia of who she aims to dress. "She likes black, leather, motorcycles and rock 'n' roll."
Case in point: Ka'kia's first famous client was Metric's lead singer and rock 'n' roll bad girl, Emily Haines.
After graduating from Parsons School of Art and Design in Paris, Ka'kia found herself styling and designing stage looks to suit both Haines' rock 'n' roll personality, as well as her needs as a performer.
"It was very different than designing regular clothes because there are a lot of things to consider, like where her pack goes and how she moves when she's performing," says Ka'kia. "It was also about making things that were interesting and would stand out on stage."
One of Ka'kia's favourite places to pull looks for Haines was Haute Hippie, a New York-based label that she would later design for. "While I was pulling clothes for her in New York City I met a PR girl who kind of insisted I meet one of the designers, and we kind of fell in love. She was like, 'Oh, you have to come and work for the company.'"
After designing for Haute Hippie for about a year, Ka'kia decided in 2010 to move back to Toronto and begin working on her own line.
"In Toronto I'm surrounded by a lot of love and support. I love it here," says Ka'kia. "Also, whenever I come to Toronto, I really get an opportunity to actually put something to work. Whereas in all of those other places, I'm kind of absorbing ideas and designing in my head."
Upon returning to Toronto in 2010, Ka'kia had an incredible amount of inspiration to begin working on her label. Apart from her experience dressing rock stars, designing for New York labels and her kinship with a Greek goddess, Ka'kia also drew on a three-month experience in the Arizonian desert to shape the story behind her designs.
"I moved to Arizona for three months and worked on a feature film as the key wardrobe stylist and I think because I was there with no real contact with anyone except those on set, I went a little crazy," she explains. "I rode Harleys and four-wheelers and lived in with rattlesnakes and scorpions, and I spent a lot of time in the desert with people that I fell in love with, so I think it was more about my battle, my struggle with the solitude of the desert and being within nothing."
Also inspired by artists like The Kills, The Strokes and anything that could be described as "uber rock and roll and kind of bluesy," the line Ka'kia developed was based on the premise of how to be feminine with a touch of hard edge.
"For the holiday collection, it was the first opportunity to show what and who Ka'kia is," she explains." For Spring I thought about doing a play on Ka'kia and Areti, the other Greek goddess who fought over Hercules. She was the goddess of virginity so I thought for Spring I'd play off of her and bring her to life."
Since revealing her first collection, Holiday 2011 this past May, Ka'kia has continued to work on developing both her Spring line, which she will take to Paris in September for the Rendez-Vous fashion trade show, and a new fashion film inspired by the play on warm versus cold weather.
"For Spring, it's pretty much a continuation of girls in the desert with motorcycles," she says.
"I don't feel like I necessarily need to change anything. I feel like I have a pretty good idea of what it is I like and don't like and what I want to say to the world and what I don't."
Preferring to be inspired by things such as Japanese culture and, of course, bikers over the work of other designers, Ka'kia hopes that her label will simply continue to be what it's been since its inception – a creative escape.
"Of course I'd love to get the label into some more stores and hopefully, earn some more recognition, but I'm not really sure," she says. "For me, it's an outlet and I'm basically designing my most favourite closet ever."
Although Ka'kia may not know where her designs will take her in the future, two things are for certain: one, she'll be riding a Harley and two, she'll look damn good getting there.