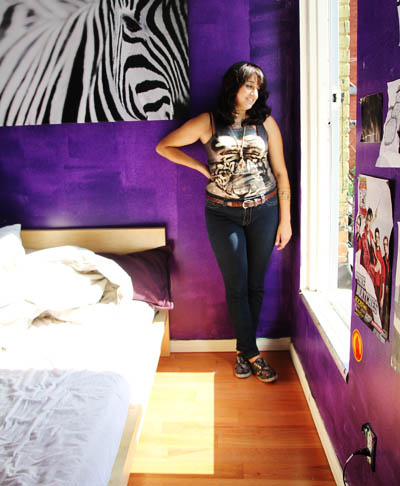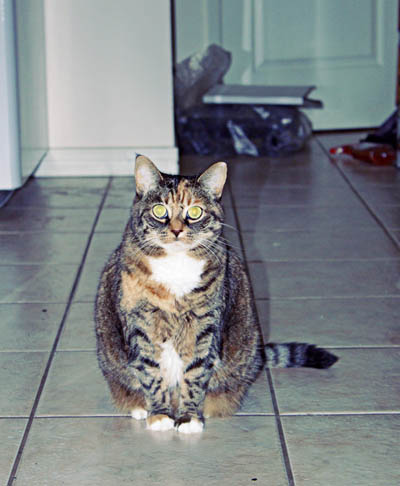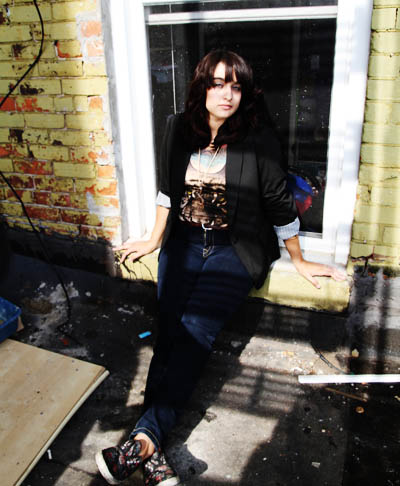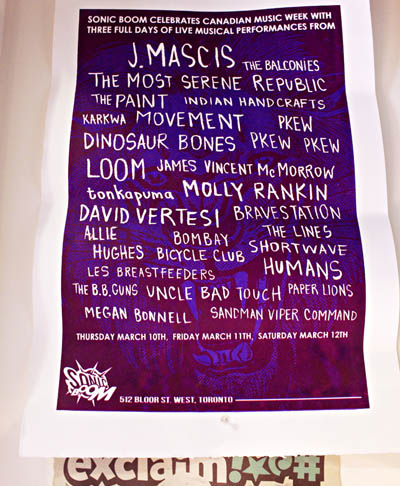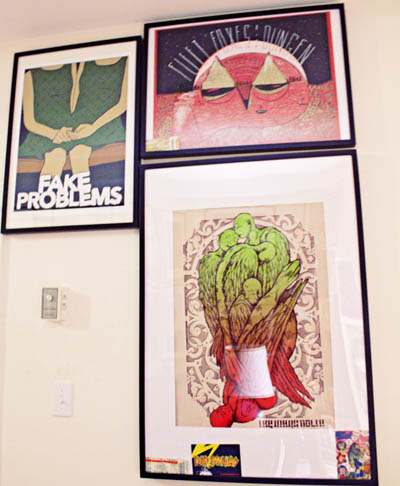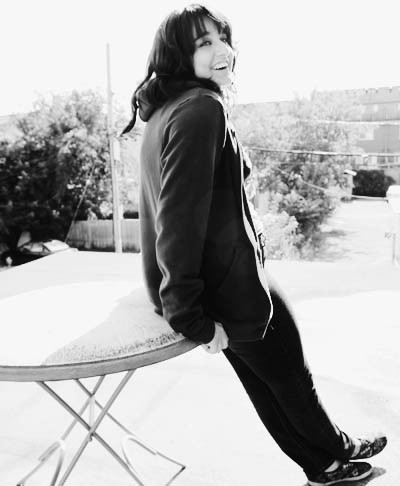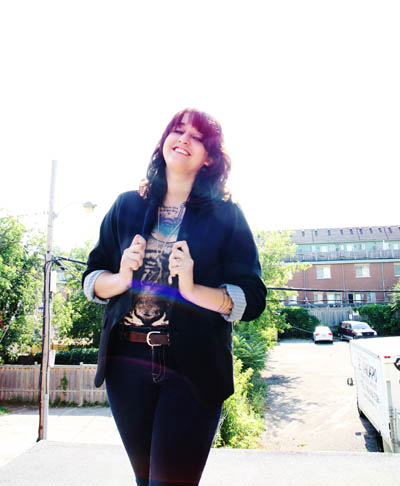 Sari Delmar sits in The Horseshoe Tavern's back room. There's one hour to show time, and her clients, The Balconies, have yet to do their sound check. The band's lead singer, Jacquie Neville, has been sick in bed all day and is strewn across a bench nearby, preserving her energy. Still, Delmar is composed. For her, this is everyday stuff.
By the time The Balconies hit the stage, The Horseshoe is packed with music industry professionals, musicians and music fans dancing along to the Ottawa band's catchy pop-rock melodies. Lead singer Neville plays to the crowd, her wide eyes batting and distinctive voice ringing through the venue.
At the centre of it all is Delmar, a short woman with pale skin, long black hair, tattoos and a sweet voice. She works the crowd, greeting everyone with a hug. As the publicist for The Balconies, it's her job to ensure that people go to her clients' shows, buy merchandise and enjoy themselves. She delivers.
Delmar is the president of Audio Blood Media, a brand and artist development company dedicated to the success of up-and-coming musicians. Audio Blood deals with everything from event planning to national and local press coverage to radio play. Based out of Toronto, it has quickly become a prominent power in the Canadian music community. Delmar, its driving force, is just 21 years old.
The most common word used to describe the Barrie, ON native is "ambitious." She was only in grade 3 when she got her first job. When she was 12, she went to her first concert. It was the beginning of the rest of her life: the music bug had burrowed under her skin. "I met a bunch of people at that show and then they started to take precedence over my friends at school," says Delmar.
She became obsessed. Burying herself in issues of music magazine Alternative Press, Delmar developed an ear for good music and a talent for writing about it. She started freelancing at 13, and at 16 was hired by Exclaim Magazine to review CDs.
Delmar has always been the youngster of the scene – she skipped from grade 3 to grade 5 because she wasn't being challenged – but Exclaim had no idea they were hiring a 16-year-old.
"It was a big secret because I felt if they knew it would discredit how much I knew about music," says Delmar. Shortly after, she started throwing her own all-ages concerts in Barrie. When she moved to Toronto, she began organizing 19+ shows; she was only 17 and therefore was not legally allowed to enter the clubs and bars where she booked events. But she never lied about her age; no one ever asked.
Audio Blood started in 2006 as an online magazine. After the web server crashed and made off with her money in 2007, she turned it into a print zine. In so doing, Delmar got her first taste of public relations by helping promote independent Toronto artists she admired. She soon realized it was where she wanted to focus her attention. The current form of Audio Blood has been alive for two and a half years, but Delmar says it was always, "lurking; it was sneakin' in."
The name "Audio Blood" comes from a song by Delmar's all-time favourite band, The Matches. It tells a story dear to her heart: Tonight we meet underground/where the air is thick like mud/and the bands make noise/that we call audio blood.
"It's about a community and underground shows and everyone coming together," she says. "And you get made fun of at school but you're part of this underground thing." This "underground thing" is not unlike the community Delmar has built around her company. Due to her ability to pick great bands and throw great parties, she has developed an admirable level of trust within the music industry.
"When she puts her stamp of approval on something, people just go," says Bobby Kimberley, founder of music and culture agency Young Lions Music Club. "She's got great taste."
A year and a half ago, Delmar threw her support behind virtually unknown Burlington, ON rock band, Sandman Viper Command.
"Sari was like, 'I'm working with this band now, they're doing a show and everybody's going to go,'" says Kimberley. "And everybody went and everybody fell in love." The band has really taken off since working with Delmar, recently playing big events like Edgefest 2011.
Delmar gets to the office around nine each morning and stays until somewhere between six and nine at night. (Though she says she leaves her laptop at the office most evenings, everyone else says the work never stops. And Delmar herself admits she's never without her Blackberry.)
Unlike larger companies who accept any client willing to pay, Audio Blood only takes on projects involving musicians they would listen to anyway (some of Delmar's favourite bands are her own clients).
Though Delmar grew up in music, the business side of the industry was practically unknown to her. Starting her own company thrust her into the heart of it all. "I learned by doing things," she says.
"I just went ahead and started. Whether I had experience or not I was like, 'Screw it. I want this and I'm just going to start doing it and figure it out along the way.' And I'm still doing that."
But the way Delmar conducts her business is hardly amateur. She's both youthful and mature; both fun and professional. She uses her age to connect with her clients and audiences, acting as an equal while maintaining quiet control. She has a unique ability to have a good time with her job (people flock to her parties) while still remaining grounded. Many people don't know she's as young as she is, and those who do tend to forget.
The Audio Blood office, located in downtown Toronto's west side, is home to the company's three paid staff members and five unpaid interns. They have usually five to 10 projects in the works per month. Delmar was, until September, the only full-time staff member. She recently hired another full-time employee to help carry the load. Delmar makes enough money to get by, but puts most of her earnings back into the company.
Audio Blood deals with everything from publicity (media contacts, social networking) to contracts. Each Audio Blood artist gets a personalized package based on its needs: one band might only need local press if they just want to play Toronto shows, while another might need national press because they're doing a Canada-wide album release.
Delmar dreams of taking the company international. Already she's created a side-project, an artist management company called New Rose. It goes beyond publicity, advising musicians on all industry-related affairs. They currently manage The Balconies and Sandman Viper Command.
Though she's become a business woman, Delmar will always be a music lover first. That's why she got into this business, and that's why she stays.
"I love what music can do. I love that music is like a language and that it brings people together and it's a community and it's a lifestyle. And I love what good bands can do for and mean to people and create in their lives," Delmar says.
"So I will work in whatever industry I have to, to be able to make that happen for other people and continue it for me."
And with that, our interview ends. Delmar swirls her chair around to face her laptop, where 388 unread e-mails await her attention. Back to work. Always working. She types for a moment and then turns around. "Do you want to hear some Balconies demos?" she asks, mouth cracked into a smile. I say sure. Delmar hits play and the haunting voice of lead singer Jacquie Neville comes floating through the speakers. It's good. I'll have to buy a copy.