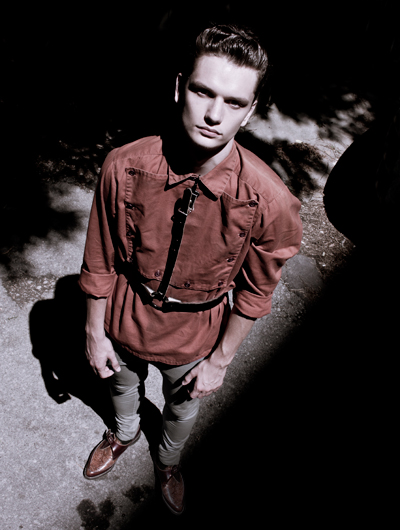 On a very early morning at a bustling studio, in walks a quiet young gent who we're surprised to find out is the model for today's cover shoot. Sometimes you see people on the street and their modeliness is like a smack in the face. At first impression, the 19-year-old simply seems like a handsome, laid back and slightly mysterious dude. In photos, however, virile features and a retro, debonair vibe come to life.
It all began when he was Christmas shopping at the Eaton Centre. "I was leaving a store and I heard someone yelling after me and I turned around and this woman asked me 'Would you like to model?' It was really surreal and I though she might be yanking my chain, but I tried it out and talked to my parents and it turned out to be good." That was four years ago. Since, he has spent months working with Elmer Olsen Management and has been fortunate to work in Asia, Europe and all throughout the web that is Toronto's fashion scene.
Over the years and through working with countless stylists, Daniel has absorbed a lot about fashion. "I try to stay basic and have a good foundation first.
I work from my boots or shoes first. Shoes are the most important thing, because they say so much about me. I wear bunker boots, desert boots. And when I say desert boots I mean I have three pairs [laughs]. I'm wearing Ben Sherman pants right now. I will go out of my way to not wear stuff that other people are wearing. Fashion should be about yourself."
Thus, after taking a year off to model, he hopes to start school in Fashion Management. "I just want to see where it takes me and if it doesn't work out, I'll try something else. I just want to pursue a career that I like and be able support myself at the same time."
Although Daniel is fairly reserved, he demonstrates a bravery and agreeable nature that has developed through his years of modeling. Walking to set through downtown Toronto wearing skin tight, electric teal skinny jeans isn't something a lot of guys would flock to do. "Modeling has helped me become more comfortable with strangers, and taught me a lot about people skills."
When he's not working, he likes to escape fashion when he can. "Sometimes it's nice to get as far away from modeling as possible; it can absorb so much of your energy." Living in the Beaches he (not surprisingly) likes to spend a lot of time at the beach, as well as up North, outside the city. When most 19-year-olds might be out partying on the weekends, Daniel likes to relax with his family or girlfriend. "I watch movies a lot; In Bruges is my favourite." Throughout the conversation I begin to suspect he has a slight man crush on Colin Farrell. "He's a great actor but he doesn't take it too seriously; he's cool about it. I've seen all his movies [laughs]."
After changing out of the last look and washing off the makeup, he transforms into that regular dude again. Even after chatting for 30 minutes it seems like there's a whole dimension to Daniel that I haven't uncovered. I think this mystery translates into his photos, which perhaps explains why he is such an alluring and successful model.
The Other Side & Cover Fashion Credits
Cardigan:
shirt, Vintage. cardigan sweater, Vintage. pants, H&M. shoes, Dr. Martens. tie Clip, Stylist's Own.
Harness:
shirt, Vintage. pants, American Apparel. shoes, Dr.Martens. harness, Stylist's Own.
Sunglasses:
shirt, Vintage. jacket, Vintage. pants, American Apparel. sunglasses, Stylist's Own. pin, Stylist Own.
Plaid Coat:
top, Vintage. coat, Vintage. pants, American Apparel. shoes, Aldo. gloves, Stylist own. headbands, American Apparel.
Black & White Sweater:
sweater, Vintage. pants, American Apparel. boots, Aldo. headbands, American Apparel.
Tie:
shirt, Vintage. pants, American Apparel. belt, American Apparel. tie, Vintage. pin, Stylist's Own.
Tassel Shirt:
shirt, Vintage. jacket, Vintage. pants, H&M. shoes, Dr.Martens. neck Watch, Stylist's Own.