⁄

Chameleon
DJ's vexing face and body lend themselves to a range of stunning visuals, and the model does it all with a sweet smile and shiny disposition.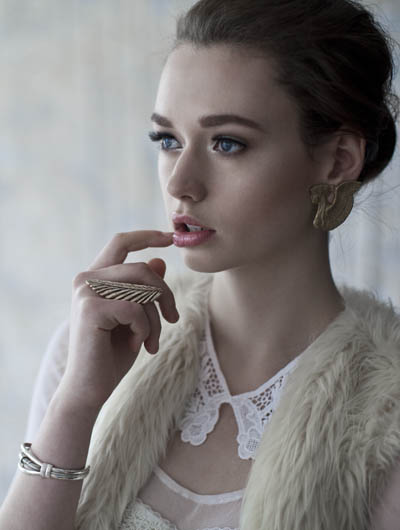 Flipping through DJ's portfolio, it seems like I'm looking at a different girl on each page. Somehow her striking features can transform leaps and bounds with a little hair, makeup and styling. Even when looking at her in person, it's difficult to get a concrete grasp of what she looks like, a kaleidoscopic vision of long slender limbs and pale blue eyes.
DJ's personality, however, is anything but assorted. The girl is chirpy, and has no shortage of silly grins or little jokes. She could be seen crip-walking in five inch heels in between shots and striking ridiculous poses, just for a laugh.
It's no surprise that she was walking in LG Fashion Week just one week after sending pictures to a model placement agency, this past June. She then spent a month in New York, walking in its fashion week. "Being thrown into it and going to New York, and travelling around by myself. That was a reality check for this job; I've been loving it. I've always been outgoing but you mature quicker when you're by yourself," she explains.
Since then, DJ's portfolio has become thick with photos and experience from working with Sutherland Models, "I like doing editorials. A couple weeks ago I did a shoot at the Royal York Hotel with amazing clothes and a blonde wig."
"I've certainly developed a taste for opulence," she laughs, about how modeling has changed her style. She doesn't like to dress like the rest of the girls her age. "I usually try to incorporate something surprising and unique," she says.
Along with her spunky personality comes an abundance of artistic talents. She comes from a family of musicians and has recently started playing guitar and writing songs. "My dad is a musician; he's played guitar since he was a teenager. For Christmas last year he gave me the guitar he got when he was 19. And on the other side of the family, they've all been musicians too. My brother slaps the bass," she laughs.
DJ also explores visual art, in an enthusiastic way. "I'm an artist; I paint. I like to layer paint and use masking tape. I also use clay and spray paint. I did a mural on my wall of a cactus desert scene – it's pretty sick," she tells me.
Her aptitude extends to photography as well. "In grade 10 I did SLR photography but I didn't like the dark room. You do one thing wrong and you have to restart; it's tedious. I like to do stuff quickly; I have all these ideas flowing and it doesn't accommodate my hastiness, so I switched to digital the next year." While in New York she took 5000 photos and created a stop motion video "I want to do more of it. Whenever I hear a song I see ideas in my head."
After her final year of high school, DJ hopes to continue modeling and pursue an artistic program of some sort at OCAD or Sheridan. "When you have so many interests, you just want to do everything. It would be cool if I could play shows on the weekend and also do photography, graphic design, art, maybe something in fashion, modeling;
I want to do it all," she laughs. Being so young, talented and ambitious can only be a springboard for endless creative growth and potential. Being able to model around the world and meet amazing artists doesn't hurt either.
Click here to see DJ's full editorial, Mesmerize, by Cory Vanderploeg, Heidi Ondrusek, Natalie Kaine & Matthew Collins.
Cover & Mesmerize Editorial Credits
Page 1: Capelet, Clutch, Corset & Shorts, Vintage. Bracelet & Rings, Aldo Accessories.
Page 2: L: Blouse, American Apparel. Top & Vest, Vintage. Collar Clips & Earrings, Stylists' Own. R: Top & Vest, Vintage. Skirt, American Apparel. Belt, H&M. Bracelets & Ring, Aldo Accessories. Collar & Earrings, Stylists' Own.
Page 3: L: Dress & Necklace, Vintage. Belt, Stylists' own. Bracelets & Rings, Aldo Accessories. Watch, Philip Persio. Scarf, Salvatore Ferragamo. R: Capelet, Clutch, Corset & Shorts, Vintage. Bracelet, Headband & Rings, Aldo Accessories.
Page 4: L: Dress & Fur Coat, Vintage. Bracelets, Headband & Rings, Aldo Accessories. Earrings & Necklace, Stylists' Own. R: Dress, Necklace & Sunglasses, Vintage. Scarf, Salvatore Ferragamo.
Page 5: Blouse, Strenesse. Top & Swim Cap, Vintage. Pants & Watch, American Apparel. Belt & Brooch, Stylists' Own. Bracelets, H&M.