⁄

Gentleman
Ford model, Liam, lends OTM his dashing features and charming affability for our 11th cover.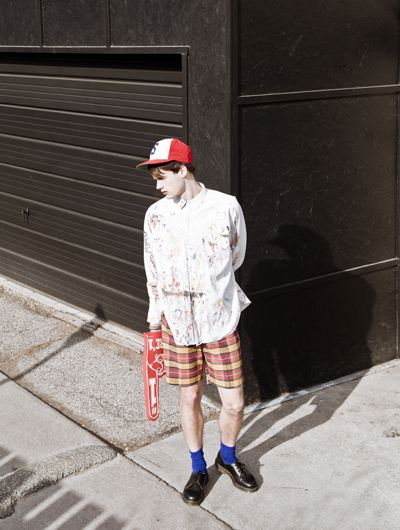 Meeting Liam for the first time, I am struck by his remarkable British schoolboy vibe, like he just popped over from Narnia. And the young man of 17 has the disposition to match; pleasantly polite, very bright and a wee bit quiet. To my not-so-surprise he didn't bust out a lovely London accent and is homegrown Canadian. Nevertheless, Liam more than made up for his lack of accent on the long shoot for Issue 11 cover by romping around alleys of Toronto in neon shorts while the frigid winter wind blew alongside the occasional gentle snowfall.
Liam began modelling about a year and a half ago, originally spotted by an American scout. He had planned to work in the US but lacked the Visa to live there. Soon after, he met with Ford in Toronto and has been thriving here ever since. He's done lookbooks, big campaigns, editorials for other Toronto based magazines along with some runway shows. "I prefer doing print stuff, it's a much more comfortable atmosphere. You have a lot of time to get it right whereas on the runway you only get one chance," he explains.
Liam's modelling work is wedged between his high school academics, playing for the school volleyball team, his love for live music, and travelling to and from Hamilton, where he lives. "I'm a real math and science kind of guy," he smiles, "I'd like to go to U of T or McGill for Biochemistry or another science."
Recently Liam has been dabbling with a new interest in photography. "I bought myself a camera and have been doing a lot of experimenting," he tells me. He also is learning how to sketch, inspired by his girlfriend, an artist.
Liam doesn't mind coming to the city (or missing school) for work but he also likes to come to the city just to relax. "Toronto is my favourite place in the world. The music, the shopping and fashion, it's just a nice place to be." He most often frequents Liberty Village and Queen West.
"Fashion has become my new hobby," he tells me, "I love clothing." When asked to describe his style, preppy is the only word he used and he adds that he favours Topman, Dockers and the "British Isles look."
And it's no surprise as his roots are a collage of English, Irish and Scottish, and it so obviously suits him. Working as a model, his horizons of fashion knowledge have broadened and he likes to stay up to date on his favourite lines, Prada and Burberry.
Throughout the day of shooting, Liam is endlessly agreeable with a whirlwind of fixing, primping and posing while shivering in the quirky spring outfits. Even though he didn't go home through a magic wardrobe, he's still a pretty awesome lad.