⁄

Writing Paint
With brushstrokes and spray cans Michael Vickers writes us a story.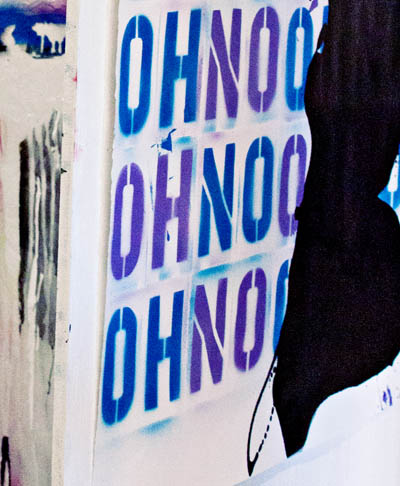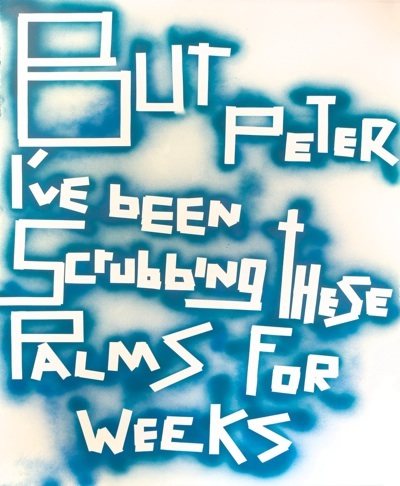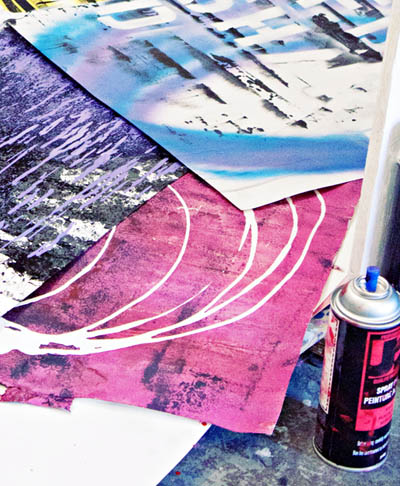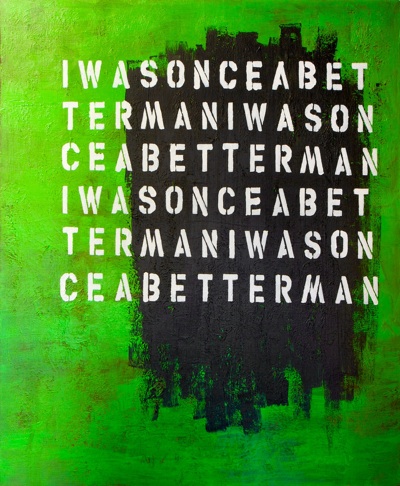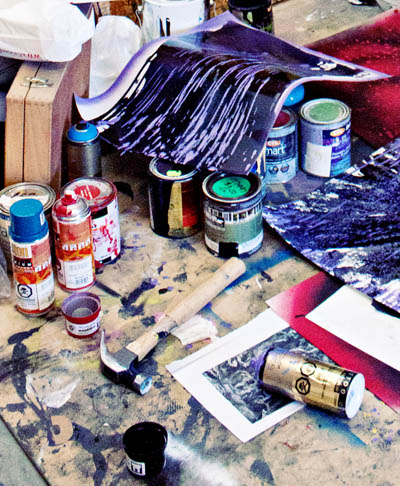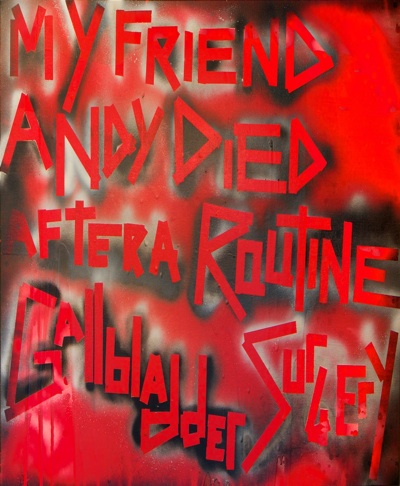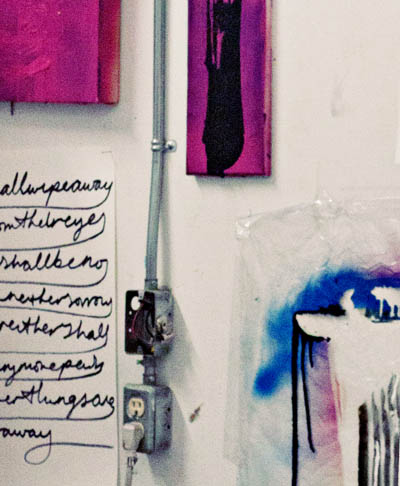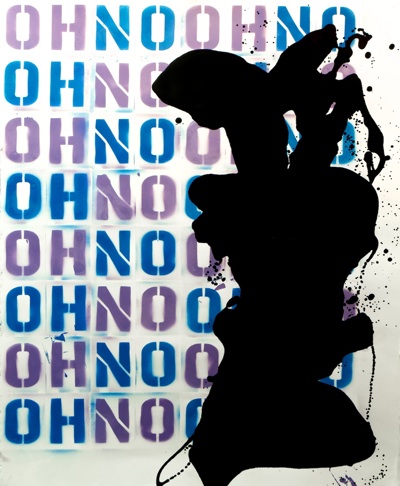 Perched on a step overlooking the setting sun and the busy traffic of Dufferin Street sits 24-year-old artist Michael Vickers. He is guarding his freshly spray-painted text piece lying on the lawn across the road. The jagged masking taped writing is drying under the disappearing day. His studio inside the neighbouring building reveals a man with a passion for art, but also a man that will laugh at the dumbest, dirtiest jokes. By day he works at an ad agency and the Museum of Contemporary Canadian Art in Toronto and is enrolled to take a Masters degree at the University of Toronto in Contemporary and Modern Art History. He spends nights in an open studio that allows artists to pay and work in the space as they please, but you could pretty much call him a permanent resident. If he's not at work, he's at the studio and if he's not there, he's sleeping – it's easy to say he's driven.
Rebecca Burton: From where does the accent originate?
Michael Vickers: I'm a real mutt. I've moved around a lot. I was born in Washington, D.C.; my mom's Canadian, my father's British. Six months later my parents skipped town and moved to Montreal.
I lived in Montreal until I was seven – a brother and sister happened there. Then from seven to 15 we moved around England quite a bit. When I was 15 years old, I moved back to Canada with my mum. I went to high school just outside of Toronto followed by university in Ottawa and then New York. Last year I backpacked around Africa and the Middle East. Now grad school at the University of Toronto. We'll see where next.
RB: Tell us about your time in New York.
MV: It was tough as hell living there but brilliant. Definitely had times that I was poorer than I'd ever been and lonelier than I'd ever been. But I loved it and I'll head back for sure. I got to meet a lot of the people I really looked up to at the time. I talked to a lot of people and shook a lot of hands. I've always been someone who is willing to put my name out there. I'm not afraid to go up to someone and say 'Hey, I'm Michael Vickers.'
RB: Who did you meet that stuck out for you?
MV: I helped out at Pace/MacGill Gallery in hopes that I would meet the
artist Robert Frank. He's like 85 years old, really hunched over. I didn't end up meeting him until one night when I went to a party at a bar for his opening at the Met. I knew he'd be there so I made a point of heading over to talk to him. Didn't get to talk to him for very long but shook his hand. That meant a lot to me.
RB: What is your main focus?
MV: Absolutely painting right now. Photography is very important to me – I have projects laid out that I know I will do. I have a series on hospital beds that I need to get to. Basically photographing empty hospital beds. Right now I'm focused on these text paintings. . Lately I've been playing around more with the formatting of the text. I've been fighting a lot with it, especially the idea that if I'm fighting so long with the right text for a painting, why don't I just go write a book?
RB: What influences you?
MV: I was going to say my friends and family but when it comes to my work I don't have a lot of dialogue between the two. I'm so wrapped up
in my own head. I'll dwell over words or symbolism for about a month. Life in general. Existing and making sense of it all.
RB: What are your upcoming projects like?
MV: The next painting I will be doing will have the words, 'Oh come on Peter, I've been scrubbing these palms for weeks.' You can look at it and think 'What can I take away from that?' If you're solely looking at the text you can break it down. Who is this Peter? To reference the bible, it's the man holding the keys to heaven. But Peter wasn't exactly perfect himself. Then you look at the rest of it – you can break it down all these different ways. 'Trying to get my palms clean' is a reference to Shakespeare's Lady Macbeth. My younger brother's name is Peter so maybe I'm trying to reference him too, acting as a good example. It's this idea of playing with language and the different ways it can function. There's the literal text and then how it appears within the painting – the lines, shape, form, colour. There is a lot of talk right now about casualists or provisional painting but that can be an excuse for laziness…
I think the paintings, for now at least, are functioning as an entry point to something higher, or even a bit of a question mark.
RB: Is Toronto a permanent place?
MV: I will be done my Master's in two years; I'll deal with that then. I do plan to go back to New York at some point in my life. But I also think if you told me in two years that I got a wicked job in Toronto, I'd stick around. My life has involved so much moving that I find it hard to say I'll definitively stay anywhere. I do like to move; there are so many places to see.
RB: What's next?
MV: My sarcastic side wants to come out and say, 'Well after the Oscar and being signed to Luhring Augustine in New York…' but realistically I'm a big believer in karma and I'll just keep working hard; hopefully opportunities will keep presenting themselves and I'll continue to chase them.