⁄

Myth Maven
OTM meets the spunky and award winning illustrator, Sabrina Scott, over a coffee on Queen Street.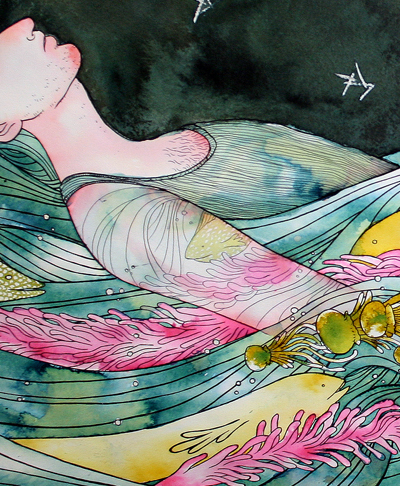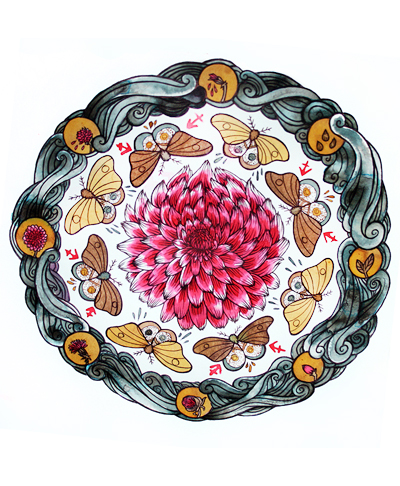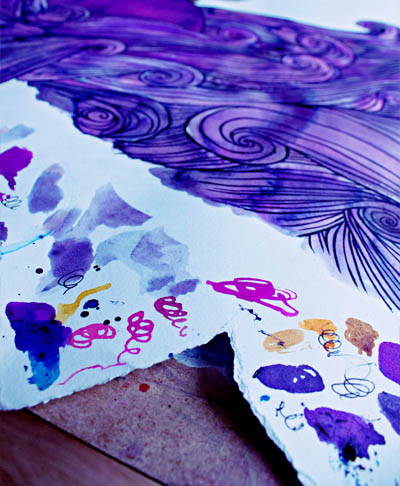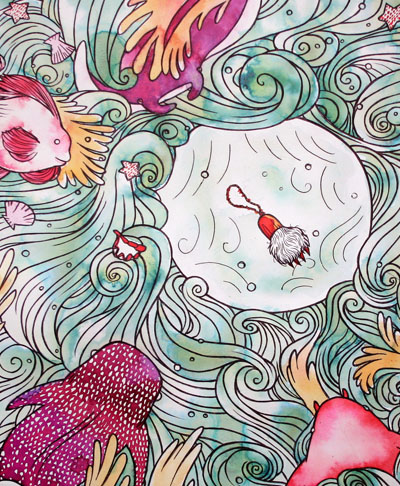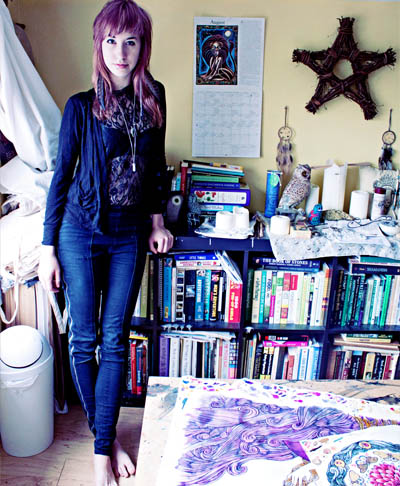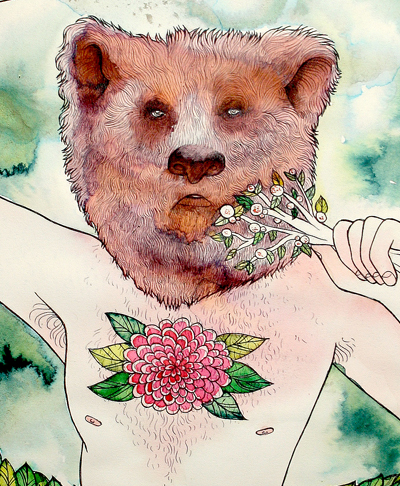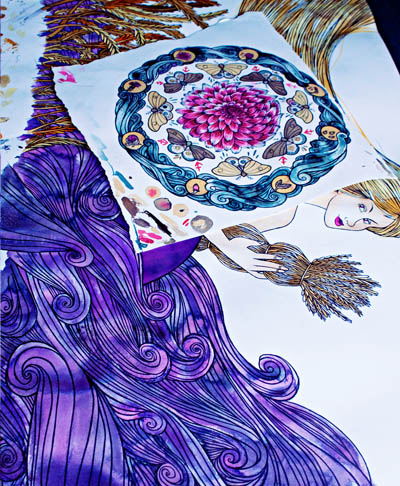 Recent OCAD illustration grad Scott has an appetite for a full plate of artistic endeavours and projects. Simultaneously, she works on illustration and web design contracts and has limitless ideas for concepts and side projects of the future. Across a table covered by her huge sketchbook, she speaks of her work and unveils her electric passion for art, cultures and spirituality of all shades.
Natalie Kaine: How did you get into drawing and illustration?
Sabrina Scott: I've been drawing since I was a toddler, before I even knew what drawing was. It's been an instinctive thing, like speaking. It's just a different form of expression for me. Some kids naturally sing, it's kind of similar; you have something you have to get out of you, and drawing was how I was able to do it.
The actual moment that defines when I got into illustration happened while I was sitting at an interview for OCAD, I didn't know if I wanted to do photography, drawing and painting, or illustration or something else.
I just gave them my portfolio and said "Pick for me! Where should I be going?" He looked at it for two seconds and said illustration and I was accepted on the spot.
NK: What mediums do your work in? Favourites?
SS: Almost exclusively ballpoint pen and ink. It took me a while to come to that. I like the restrained nature of ballpoint pen; you can be very detailed with it. The ink is very much the opposite. It's crazy and unpredictable; it's unbridled and chaotic. I like balancing that with the restrained planned nature of ballpoint pen.
NK: Where do your ideas come from? Are there recurring themes in your work?
SS: A lot of my inspiration comes from spirituality and indigenous culture. I'm really into learning about occult stuff as well as native spirituality, herbalism, nature and environmentalism. I do draw from a lot of natural themes.
There's so many interesting mythologies, folklore and interesting stories about how life used to be lived, which I think has an innate magical quality about it.
NK: What are you working on now? Any upcoming projects?
SS: I'm working on an astrological calendar for 2013, which I just found out I was doing today. I'm going to be teaching a few book binding workshops at site 3: it's an awesome little maker space. I'm chilling out after the craziness of my thesis, but I am working on merchandising it and making prints available.
NK: How have your work and style developed since going to art school?
SS: I think my drawing skills have just gotten better. There's something good about being forced to try things you wouldn't normally do. It made me expand my horizons. My favourite thing about art school is that it gets you into this conceptual means of thinking; it really does change the way you approach problem solving.
NK: How do you see your career/work progressing in the future?
SS: I would definitely like to design a tarot deck at some point and do some more editorial stuff, which would be nice. I'd like to do a lot of storybooks as well, because I think I have a bit of a narrative theme. I think that could lend itself really well to book publishing.
NK: How does Toronto influence you? What's your favourite thing about the city?
SS: Toronto is awesome because it has so much culture. I grew up in the burbs in the States…and that sucked. I think that's why I drew so much as a kid, because there was really nothing else to do. The city has such a vibrant energy and it has so many intersecting cultures and everyone is meshed together in a really awesome way. When you encounter different neighbourhoods, it does inspire you to learn about the different cultural mythologies. I find that super fascinating.