⁄

Colour of Your Dreams
Vintage dream weaver, Eva Bowering, is making Blandsdowne more colourful one pair of patterned harem pants at a time.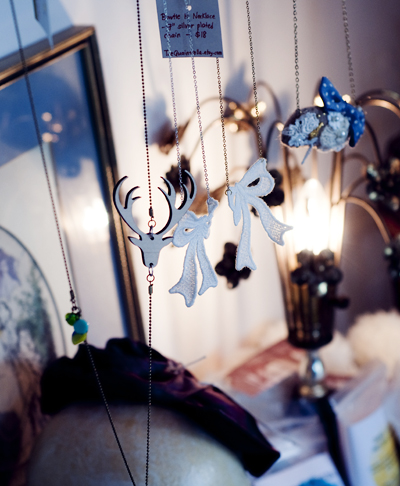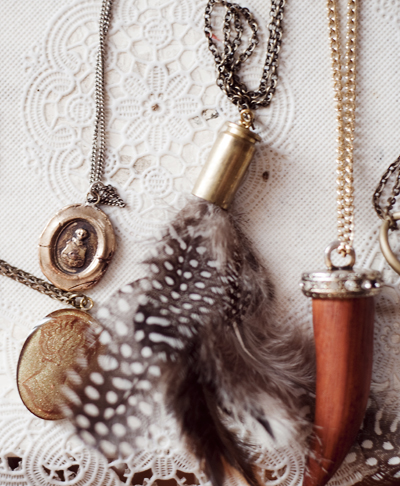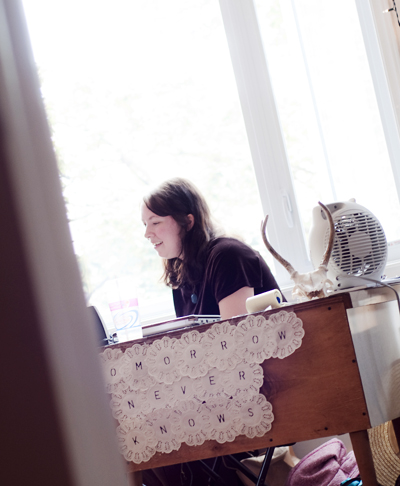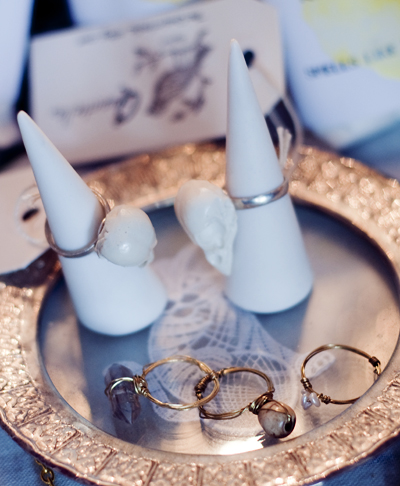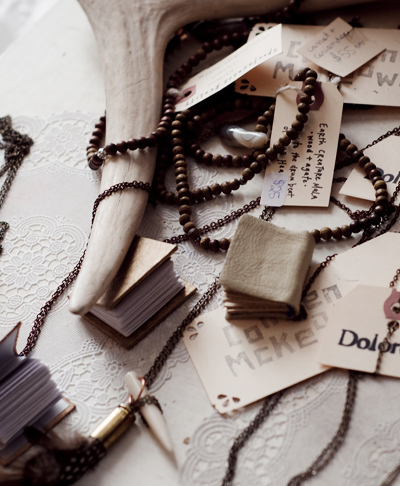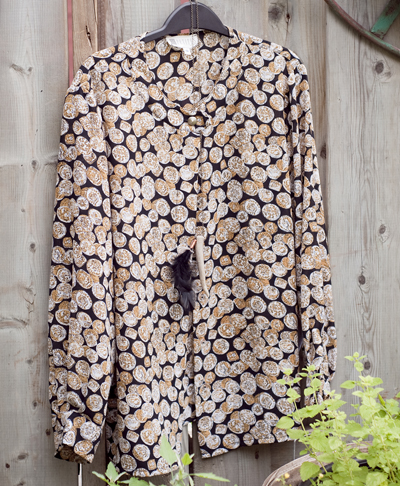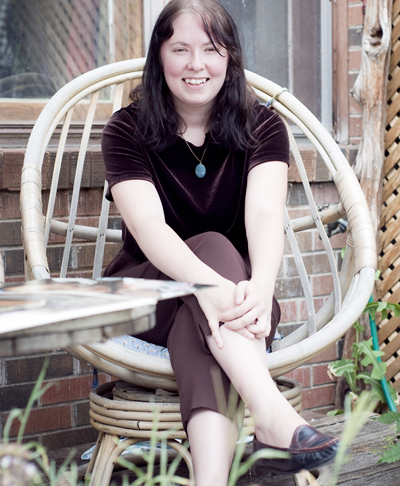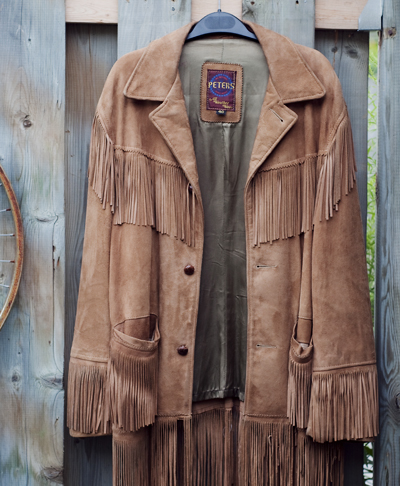 Anyone who knows a thing or two about vintage shopping in Toronto has frequented 69 Vintage's Queen West headquarters at least once. However, if you're like me, buying vintage isn't just a one time thing; it's like opening a tube of Pringles – "once you pop, you can't stop" – a fashion addiction, so to speak. I'm always on the hunt for that next great find or super deal. Which is what landed me at 69 Vintage's lesser-known locale in the neighbourhood of 'Blandsdowne' (Bloor and Lansdowne – DUH!) one fateful day.
Initially drawn in by the allure of a 'buy-the-pound' shopping experience, the novelty and adrenaline had soon worn off and I'd successfully unearthed a pair of camel-coloured leather booties and another pair of black suede numbers. At that point, I was finally able to see a little bit more clearly. "You mean, there's more!?" I said to the springy-haired blonde clerk as she weighed-in my purchase. This is the part where I learned that this location is a vintage 'collective';
each room, including the basement, is rented out to various boutiques/store-owning hopefuls as a way of offering a more cost-efficient space for showcasing and selling their vintage fashions and finds. Brilliant, really.
Once up the creaky wooden staircase hidden at the back of the shop, I discover a whole new world for scouring. For a minute it feels like The Secret Garden: Vintage Shopping edition. Beautifully appointed, the front room of the store overlooks the very 'colourful' (meant in the nicest way possible) street below, which displays a nice juxtaposition of girly femininity and eclectic street life. Inscribed on a few artfully placed lace-doilies adorning a desk that looks like it belongs in my grandparents study (if they had one), I discover Tomorrow Never Knows (a.k.a: TNK). A quick spin around and I'm immediately captivated. To my left, ensuring the racks are just so is storeowner Eva Bowering. Dressed head-to-toe in chocolate brown with a big warm smile on her face, we sit down to discuss the shop.
She goes on to explain how her humble upbringing in small-town Ontario has lead her to become the person she is today, "I grew up in St. Catherine's," Bowering starts off, in her soft-spoken tone. "We weren't very wealthy so my parents looked to vintage shopping as a cheaper way to buy us clothes." That and her father's hobby for collecting antiques are what initially peaked Eva's interests in fashion, specifically vintage. "I worked many retail jobs in St. Catherine's," she says with a shy giggle, "nowhere fancy." Until one fateful day she secured herself a job at one of North America's largest partners associated with the buying, selling and moving of used products around the world called Bank & Vogue Ltd. Here, she had to scour used textile warehouses for vintage finds; a down-n-dirty kind of job, but it's what helped train her eye to what's a good vintage find vs. what's just garbage!
After a few years at B&V Ltd., she decided it was high time to flee small town living for the big city.
It didn't take long before she found her calling at Toronto costumer Malabar, where she worked for nearly 3 years in the rental department. "That job was a lot of fun," she giggles, "It's where I learned the most about fashion and garments." Working alongside the Malabar Rental Department manager, Carol Gleason Rechner, was also an incredible experience for Bowering, "She taught me all the in's and out's of measurements and fittings from years of experience working in costume design and millinery."
As she was nearing the end of her tenure at Malabar, Bowering started to feel a tad antsy. The looming thought and distant hope of one day owning her own boutique was starting to turn into a full-fledged dream-come-true after friend and The Make Den owner Irene Stickney suggested she take the leap of faith and join the ranks at 69 Vintage Collective. This wasn't an overnight type deal either. At first skeptical about the decision, Bowering finally decided to bite-the-bullet and join the waiting list.
Once she was in, she was offered the coveted space at the front of the store's second floor, which she quickly and affectionately named after the famous Beatles song.
Now for the fun part, sourcing all the pieces for TNK. A gruelling part of the job but also the most rewarding when she's able to discover gems, "Most vintage boutiques go the used warehouse route, but I prefer to source my pieces from local thrift shops like Salvation Army, Value Village and Goodwill. I like the fact that the money is going towards a charitable organization." When asked how she's able to determine a quality piece over any-old garment she had this to say, "First off, I look to the labels. Is the garment U.S., U.K or European made? That's usually a good indicator of the quality. I don't want any pieces that were made in sweatshops! I also look to the construction of each piece, the material and the stitching. When sourcing a piece I also need to have a little bit of foresight into current trends – those are the pieces that people want to buy."
But TNK isn't just a home for clothes of yester-year. What some people may not know is that Bowering also carries a number of hand-made pieces from various local designers. She really wanted to model her boutique after online-shopping mecca Etsy which offers a perfect combination of vintage and hand-made goods. "Why not have a real-life store that can offer the same thing?" she wondered. Carrying some wonderful local brands such as Curious Oddities Jewelry, Fieldguided handbags and Foundlings and she was able to do just that.
With dreams to own her own store one day, Eva's aspirations never seem to muddle her appreciation for the people who helped her get to where she is today, like Kealan Sullivan (69 Vintage); Irene Stickney (The Make Den) and Carol Gleason Rechner (Malabar). For all their guidance, she is forever grateful. Just like the name of her boutique, tomorrow never knows what's in store, but we can never forget the things of the past.